MEDAN, kaldera.id – Siapa yang tak mengenal dengan kedai minuman Teh Susu Telur (TST) Pak Haji, yang berlokasi di Jalan Puri Kec Medan Area. Kedai TST Pak Haji kini masih eksis, meski pengunjungnya mulai terkikis gempuran kedai-kedai kopi.
Kedai yang terletak di tengah Jalan Puri ini berdiri sejak tahun 1960-an. Awalnya kedai ini adalah dari warung nasi padang yang bertransformasi menjadi kedai TST di tahun 1980-an. Kedai TST Pak Haji di tahuan 2000-an awal sempat menjadi pusat berkumpulnya warga Kota Medan berbagai kalangan dari beragam usia. Dia menjadi ruang publik yang tak pernah sepi meski malam berubah menjadi dinihari.
Kedai itu sendiri dikelola pertama kali oleh Alm. H. Zaharuddin Umar. Dia juga yang pertama kali memperkenalkan minuman TST ini dari 1988 hingga eksis dan popular sampai sekarang hingga generasi ketiga. Dari nama dia pula TST Pak Haji berasal.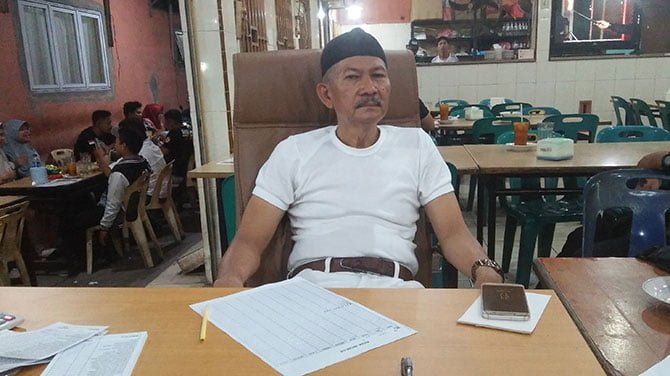 "TST Pak Haji ini, kedai TST pertama di Kota Medan, dan abang tertua saya Alm. H. Zaharuddin Umar yang mempopulerkannya di Kota Medan" ungkap H. Sofyan Umar kepada kaldera.id, Jum'at (31/01/2020).
Haji Sofyan menambahkan, kedai ini berawal dari kedai nasi padang ayah dan ibu saya Alm. H, Syamsumar dan Almh. Hj. Saodah. Dikarenakan kami sibuk dan kekurangan waktu karena ada yang kuliah jadi oleh abang tertua saya Alm. H. Zaharuddin Umar berganti menjadi kedai TST. Untuk keuntungan sendiri Haji Sofyan mengatakan Rp500.000 dan bisa lebih perhari.
Haji Sofyan juga menambahkan hal yang membedakan TST Pak Haji ini dengan TST yang lain adalah karena disini yang pertama menjual dan memperkenalkan minuman TST ke masyarakat Medan.
TST Pak Haji ini buka dari jam 14.00 WIB sampai jam 03.00 WIB dini hari, harga segelas minuman TST ini Rp12.000. Untuk menemai secangkir TST ini disediakan kue-kue dan cemilan lainnya seperti risol, kripik dan lain sebagainya. Selain TST, mereka menyediakan cukup banyak pilihan menu lainnya. Disini juga tersedia bandrek susu, kopi susu, cappuccino dan berbagai olahan jus juga tersedia di kedai ini. Menu makanannya pun bermacam-macam, ada sate padang, soto padang, martabak telur dan berbagai olahan mie instan.
TST Pak Haji ini setiap hari selalu ramai pengunjung, banyak pengunjung dari berbagai kalangan usia yang datang kesini bersama keluarga, pasangan, dan teman-teman mereka.
"Hampir tiap hari nongkrong disini sama kawan-kawan, pokoknya TST disini the best and legend" ujar Fikri warga Jalan Arif Rahman Hakim, Medan.
Ia menambahkan harganya yang tak menguras kantong dan akses menuju tempat TST Pak Haji sangat mudah membuat kedai ini tidak pernah sepi. Terlebih lagi citra rasa susu kental dah tehnya sudah melekat sama pembeli, hal inilah yg membedakan TST ini dengan TST yang lain.
Pelanggan Setia tetap Datang saat Kedai Kopi Menjamur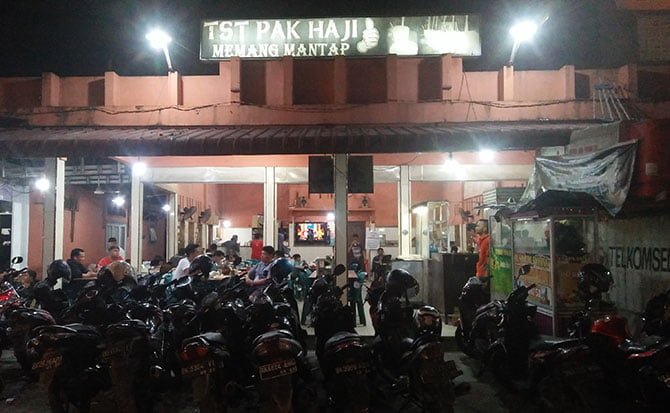 Walau setiap hari selalu ramai pembeli, tapi Haji Sofyan mengatakan kalau dibandingkan dengan dulu, sekarang agak berkurang. Karena sekarang lebih banyak kedai kopi yang menjamur di Kota Medan.
"Sekarang kan sudah banyak kedai-kedai kopi dan cafe-cafe di Kota Medan, tapi masih banyak yang berkunjung kesini karena ini kedai TST tertua. Pelanggan Setia TST Pak Haji selalu datang kesini" jelasnya.
Sekarang TST Pak Haji sudah memiliki pekerja sebanyak 12 orang.
Bang Epi, karyawan di TST Pak Haji mengatakan, cara pengerjaan dalam meracik minuman TST ini sangat mudah.
"Sebutir telur bebek atau ayam kampung sesuai selera pelanggan, telur tersebut diambil kuningnya saja dan diaduk pakai mixer sekitar 3 atau 5 menit sampai berbuih, setelah itu, air mendidih dicampur dengan teh dan dituang ke dalam telur yang sudah diaduk, lalu dituang susu kental manis dan jadilah secangkir TST yang siap disajikan ke pelanggan, katanya.
Ia menambahkan, setiap hari TST Pak Haji ini menghabiskan 300 lebih telur.(imran/pkl/frz)